A friendly reminder: There is no school tomorrow, Friday, September 22nd, for students due to staff professional learning. Un recordatorio amistoso: Mañana, viernes 22 de septiembre, no habrá clases para los estudiantes debido al aprendizaje profesional del personal.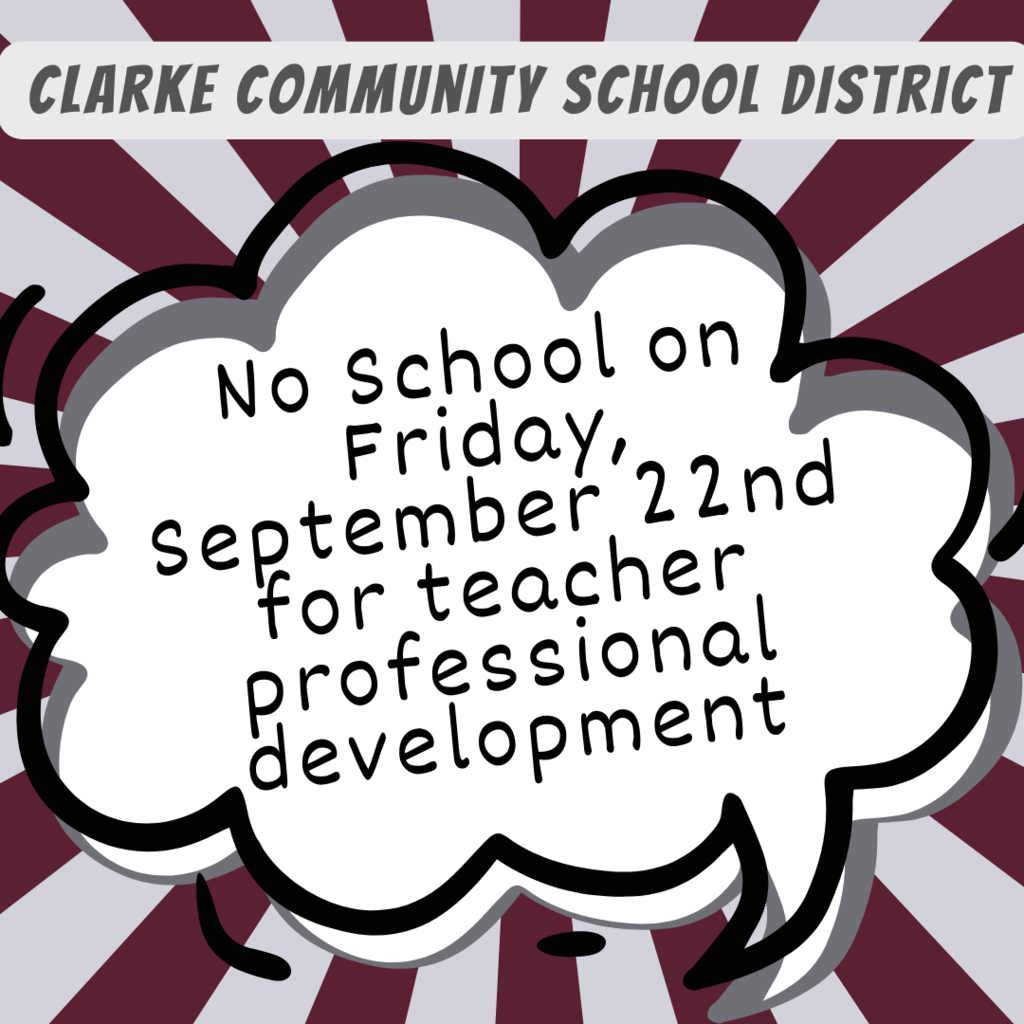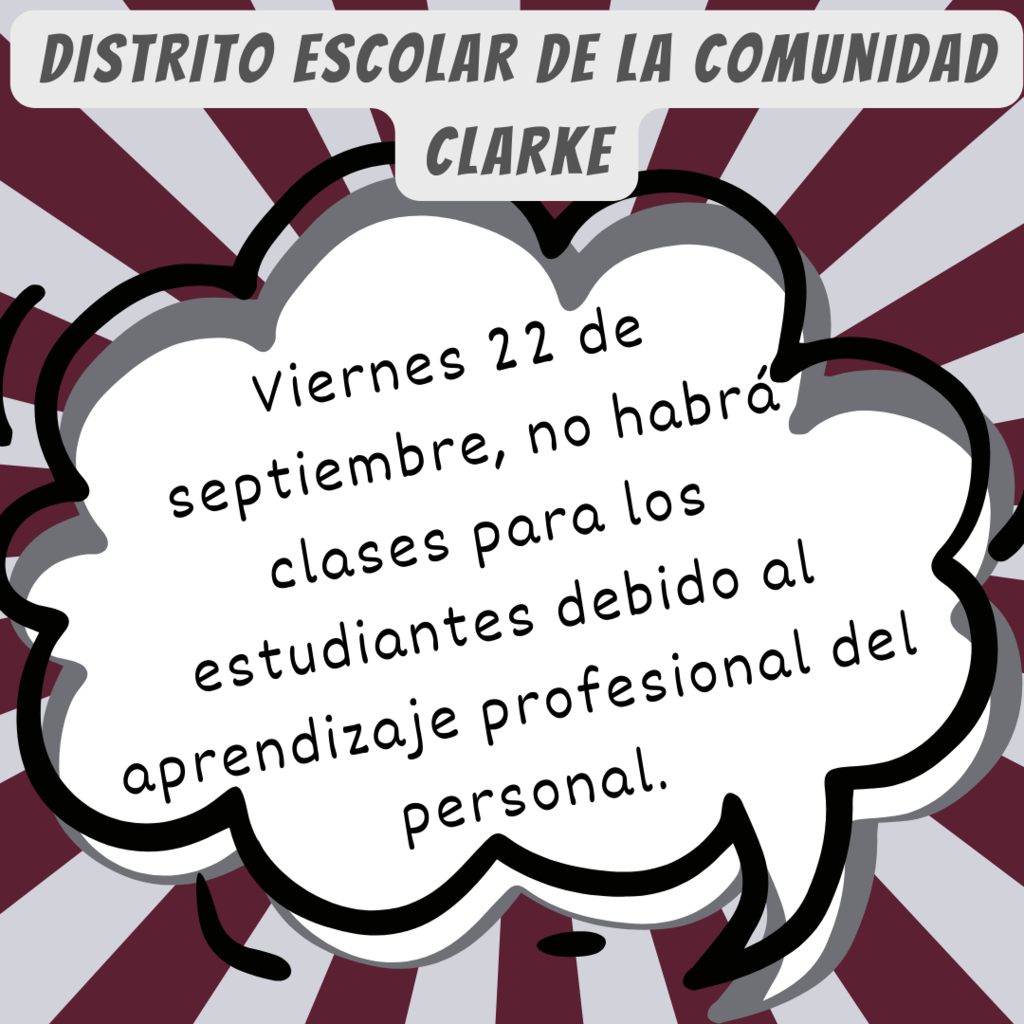 Interested in learning more about being on the Board of Directors for Clarke Community School District? Visit
www.ia-sb.org/getonboard
. Packets may be picked up in the Clarke Central Administrative Office and the deadline to turn it in is Thursday, September 21st. ¿Está interesado en obtener más información sobre cómo formar parte de la Junta Directiva del Distrito Escolar Comunitario de Clarke? Visita
www.ia-sb.org/getonboard
. Los paquetes se pueden recoger en la Oficina Administrativa Central de Clarke y la fecha límite para entregarlos es el jueves 21 de septiembre.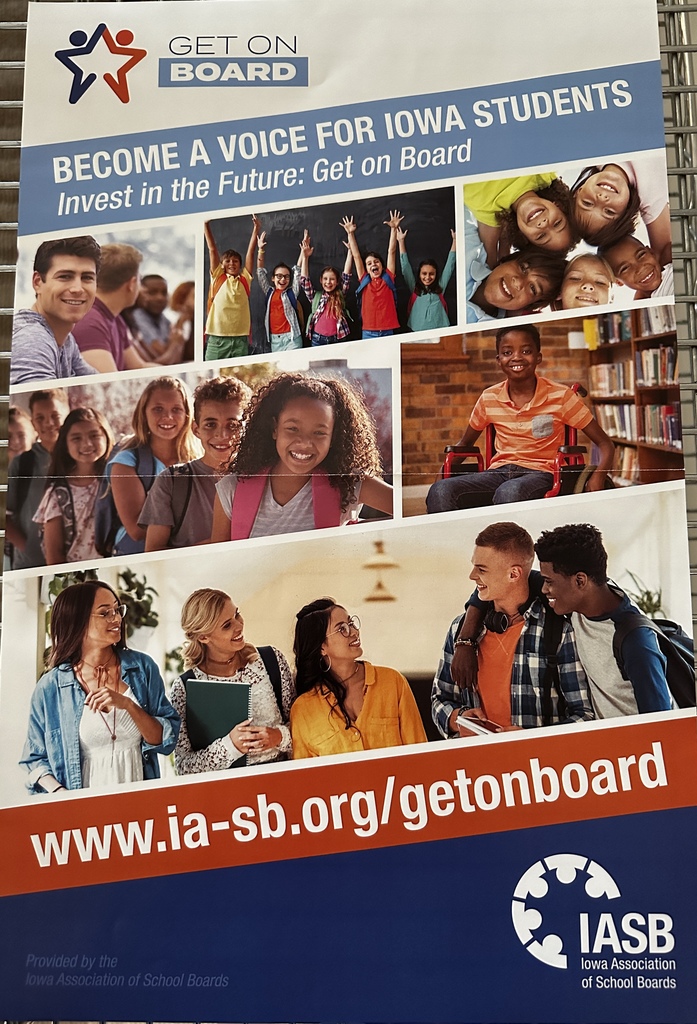 👑Congratulations to Clarke's Homecoming King Oscar Castro, Queen Veronica Banuelos, Prince Cole White, and Princess Elli Blackford! 👑¡Felicitaciones al rey de Regreso a Casa de Clarke, Oscar Castro, la reina Verónica Banuelos, el príncipe Cole White y la princesa Elli Blackford!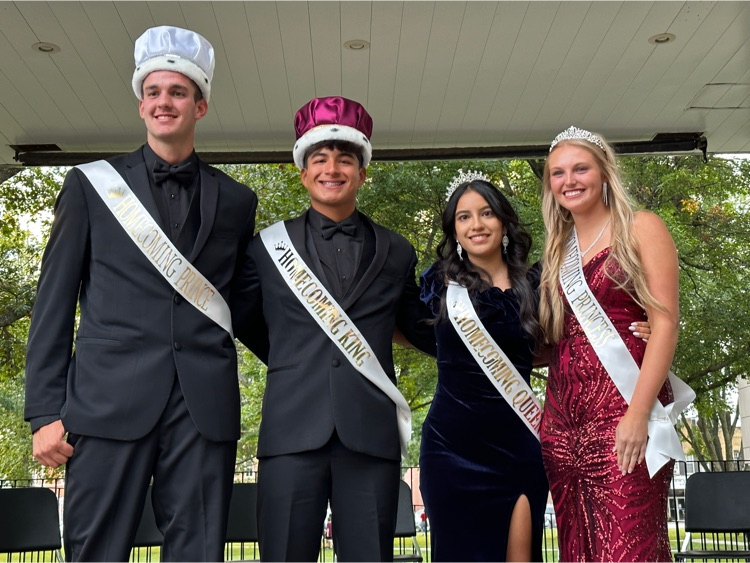 September 11, 2023: A letter from Mr. Kurt MJ DeVore, Superintendent of Clarke Community School District:
https://tinyurl.com/yxff4pj5
11 de Septiembre, 2023: Una carta del Sr. Kurt MJ DeVore, Superintendente del Distrito Escolar Comunitario de Clarke:
https://tinyurl.com/yxff4pj5

Please view our 2023 Clarke Homecoming Community Guide (
https://tinyurl.com/yrve3j46
) for information including school dress-up days, t-shirt/trinket sales, Homecoming parade plan, coronation information, pack the pantry, dance details, and more! Por favor, consulte nuestra Guía de Homecomingo (Regreso a Casa) (
https://tinyurl.com/2mkx8482
) de la comunidad para obtener toda la información que desee saber sobre Clarke Homecoming 2023, incluidos los días de vestimenta escolar, el desfile de Regreso a Casa y la información sobre la coronación, detalles de baile y más!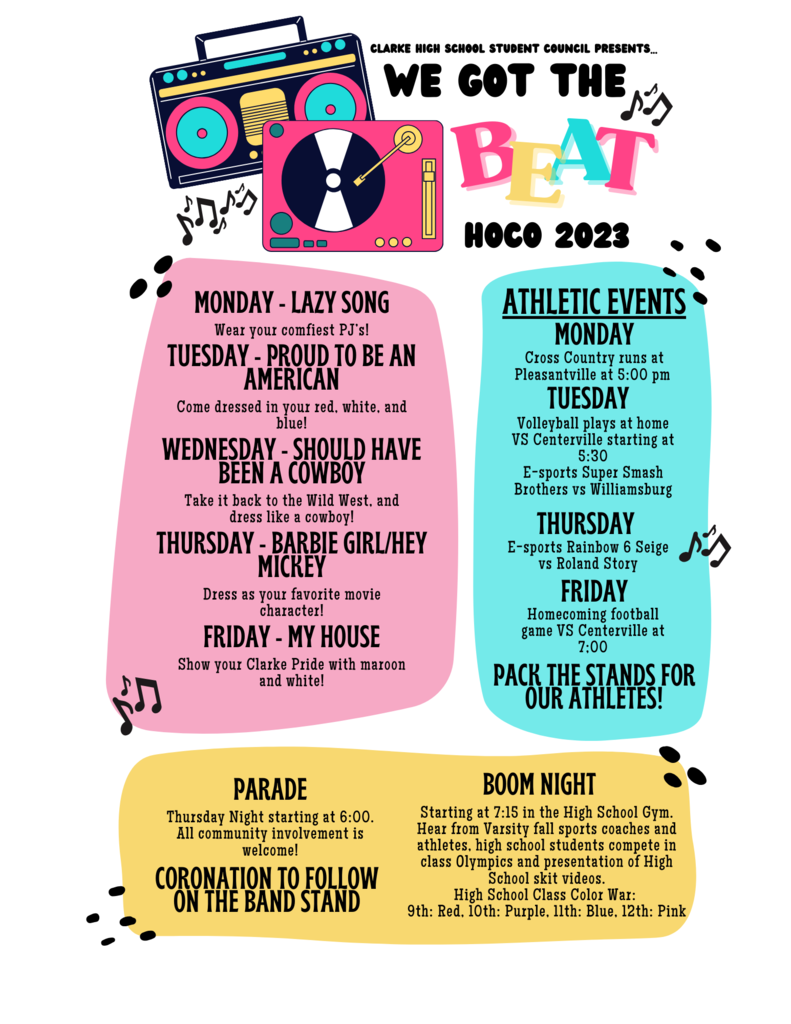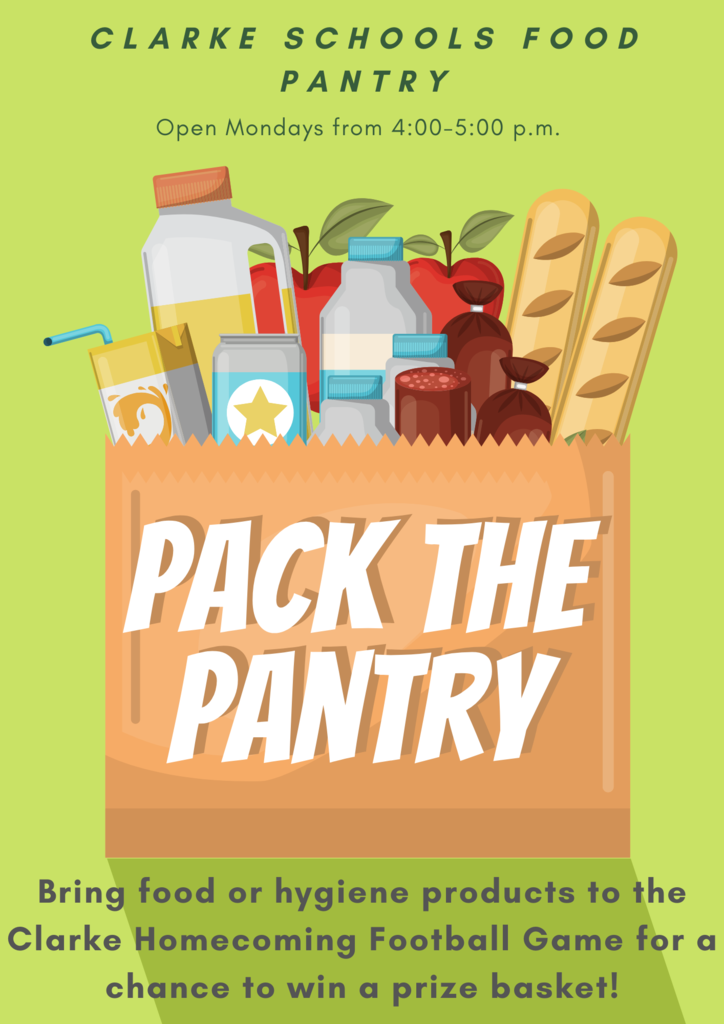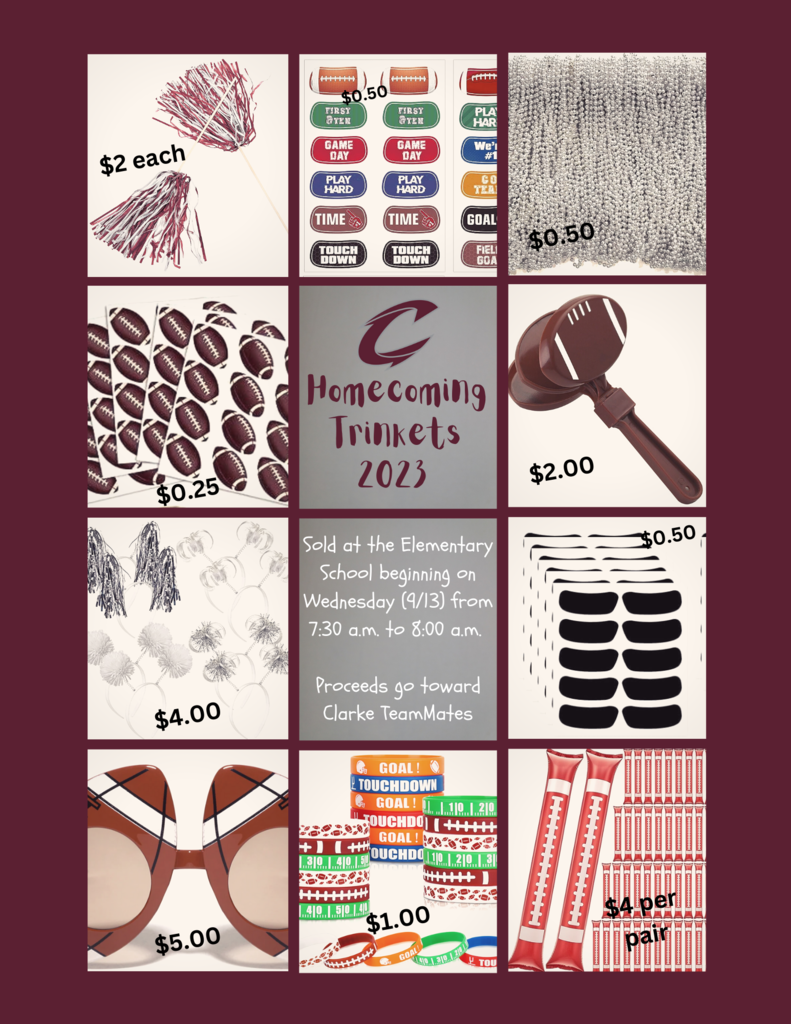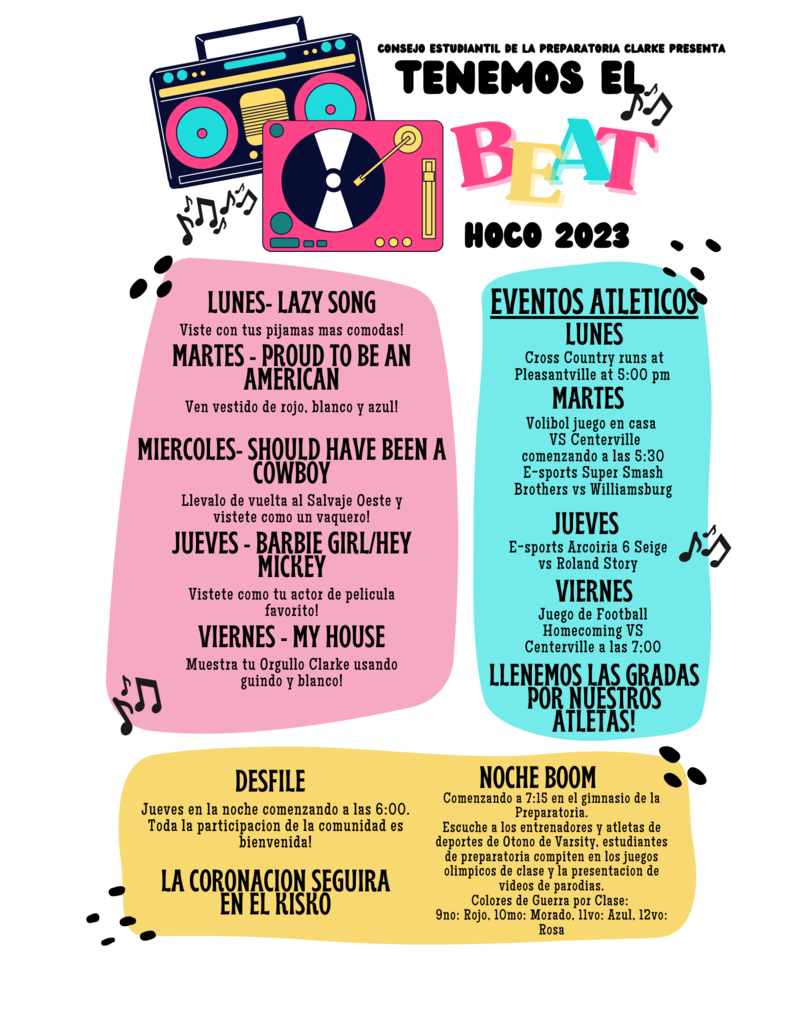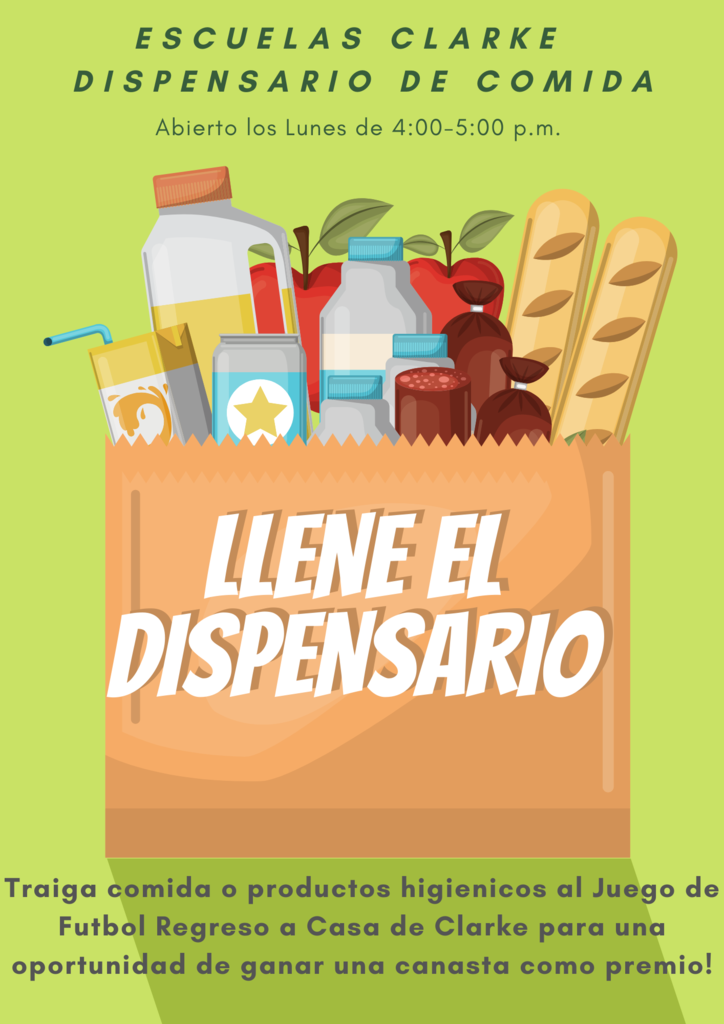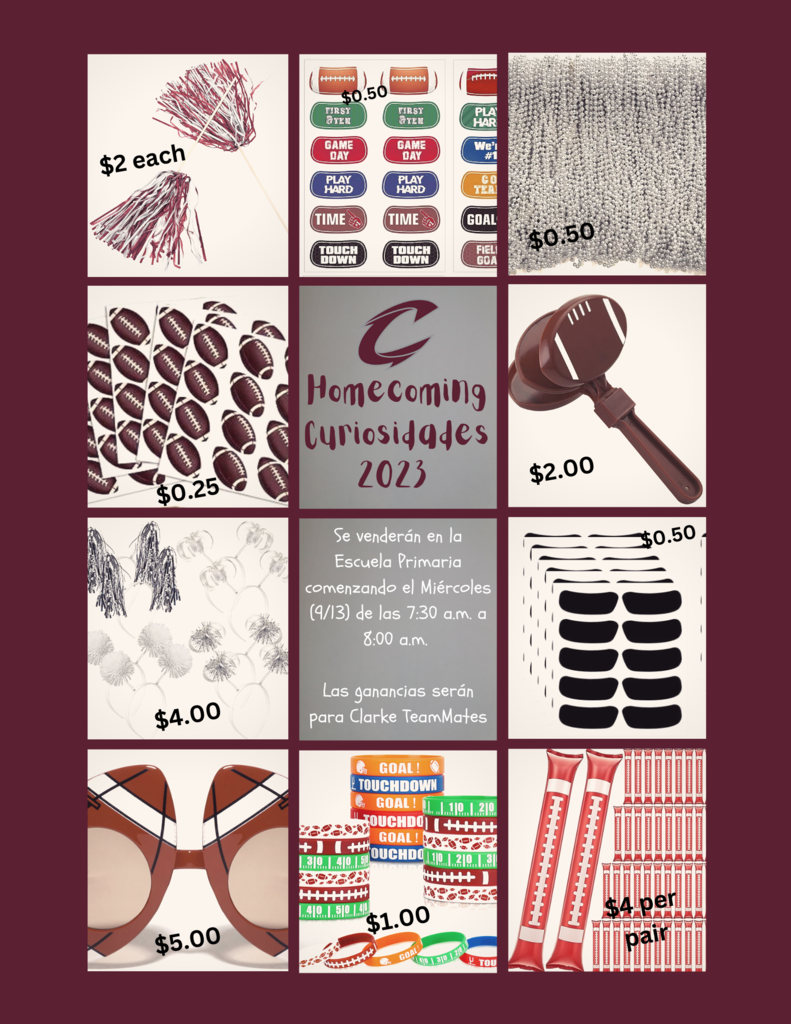 🥀Be Our Guest! 🕰️ Last night was the first rehearsal for the cast of "Beauty and the Beast". They had a great first read-through of the script! The show dates are Nov. 10th and 11th. 🥀¡Sé nuestro invitado! 🕰️ Anoche fue el primer ensayo para el elenco de "La Bella y la Bestia". ¡Tuvieron una gran primer lectura del guion! Las fechas del espectáculo son el 10 y el 11 de noviembre.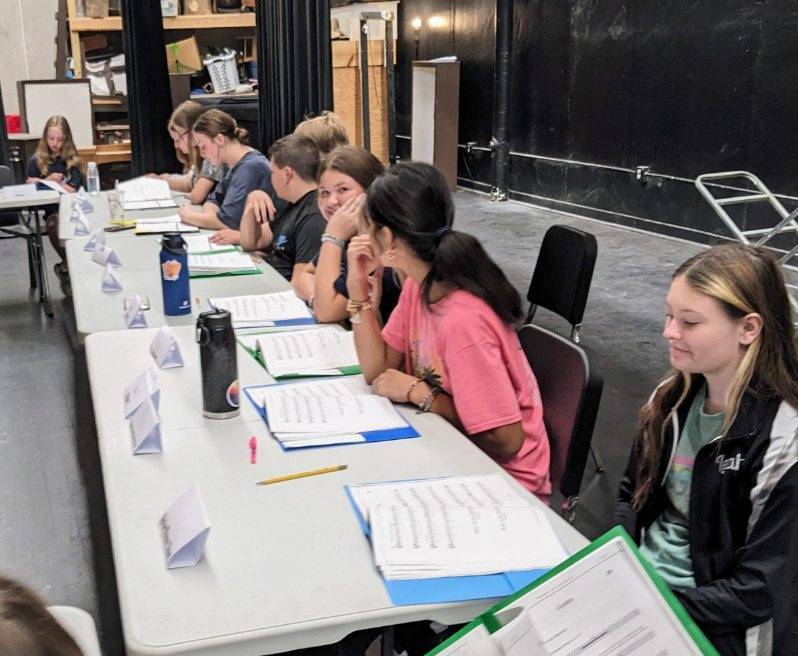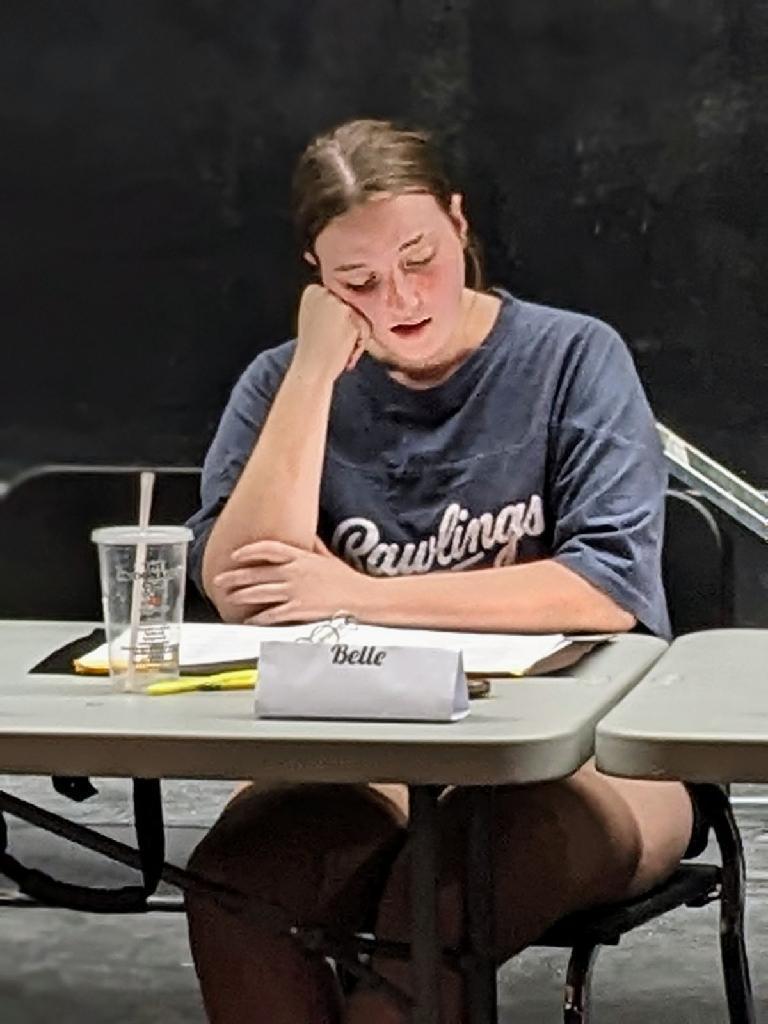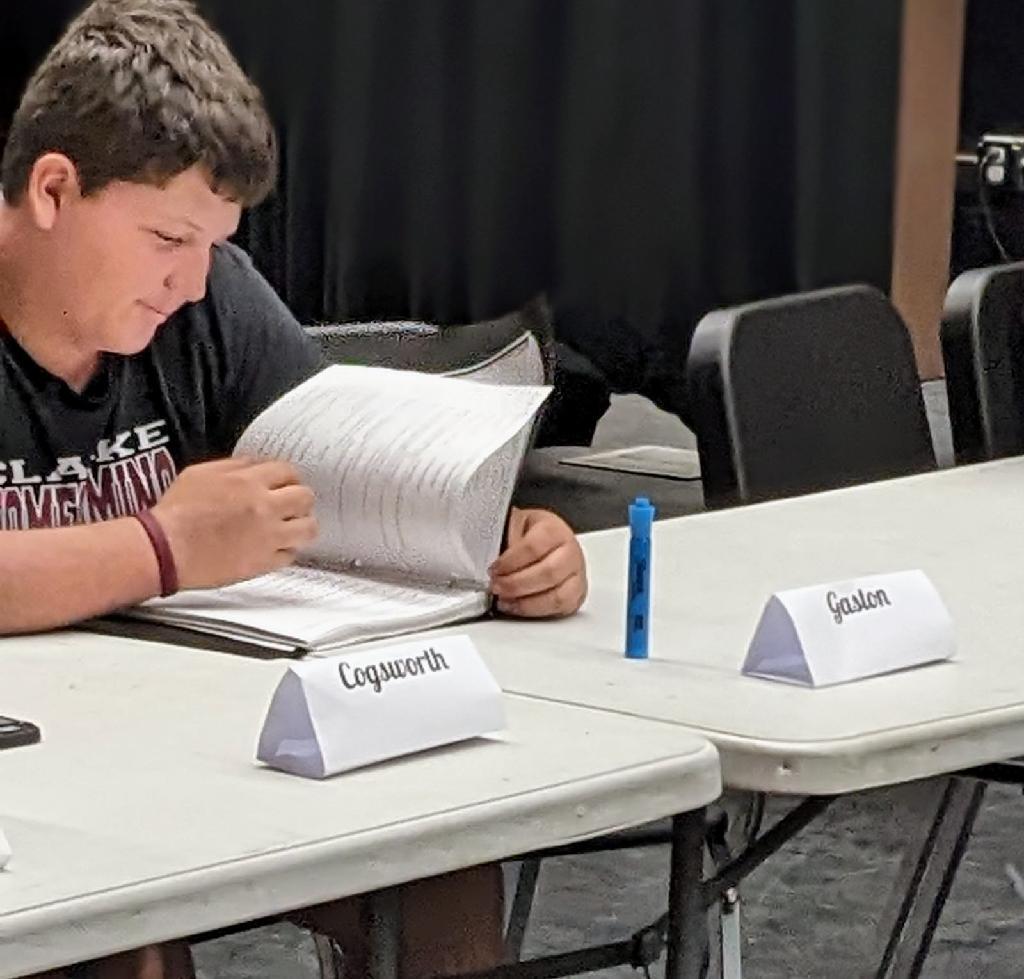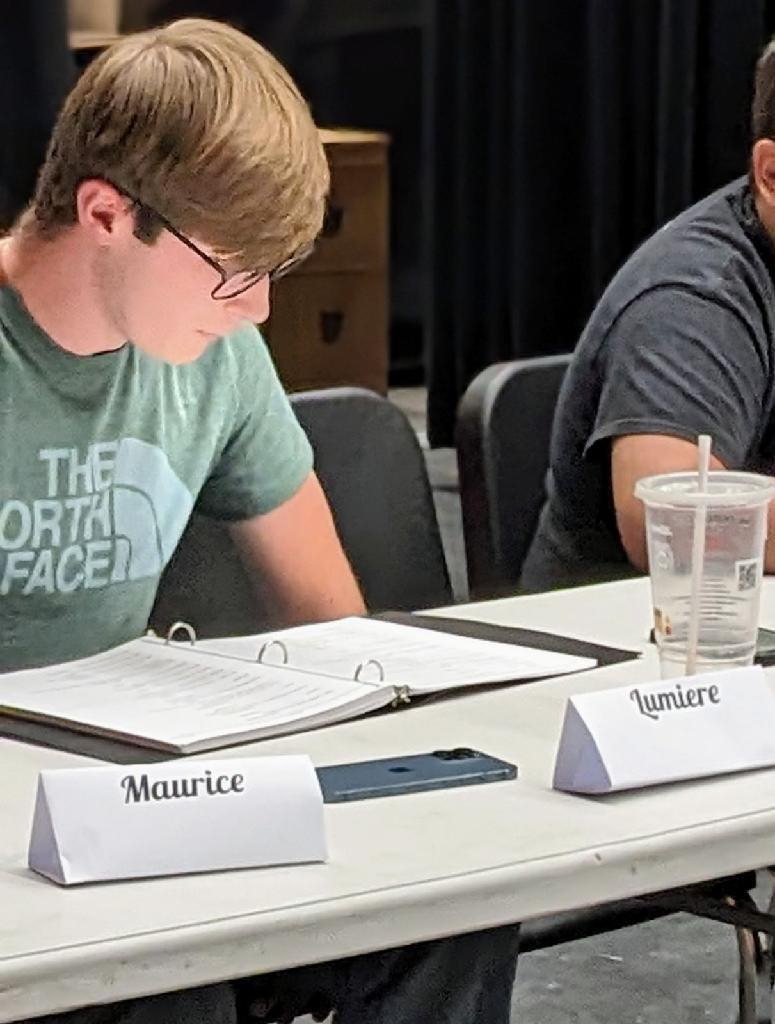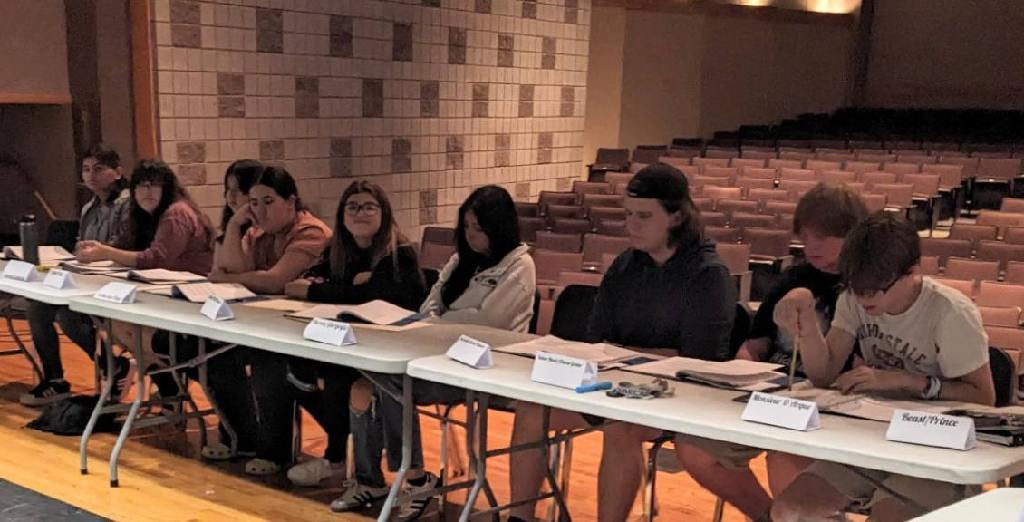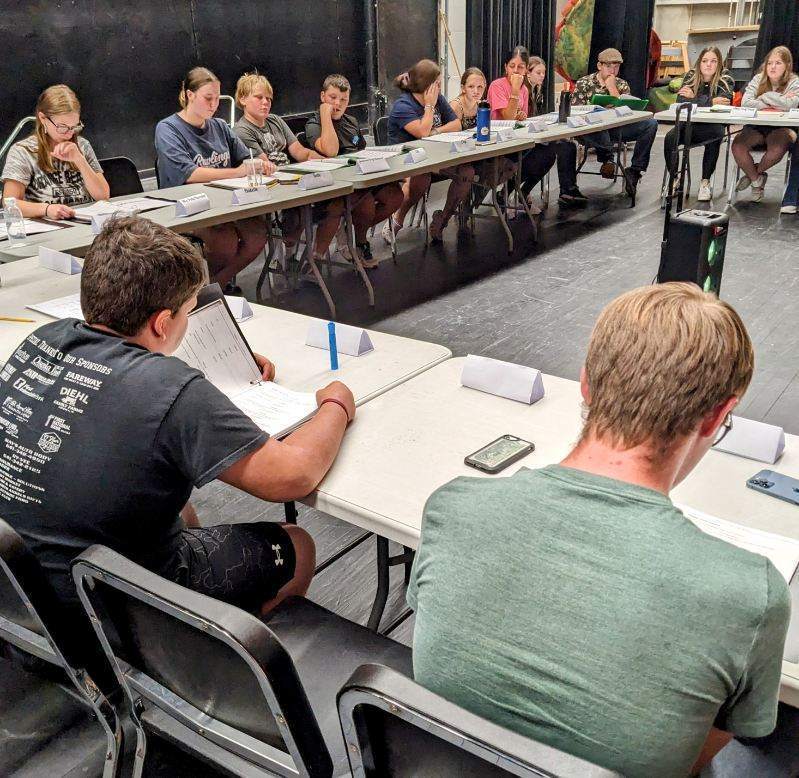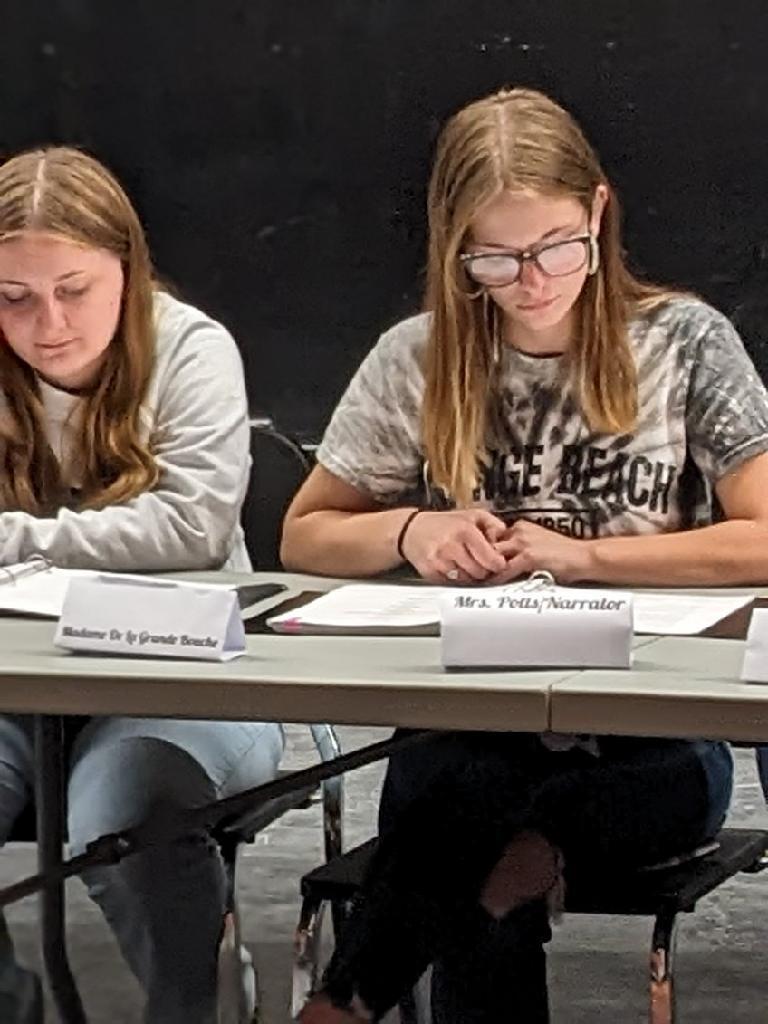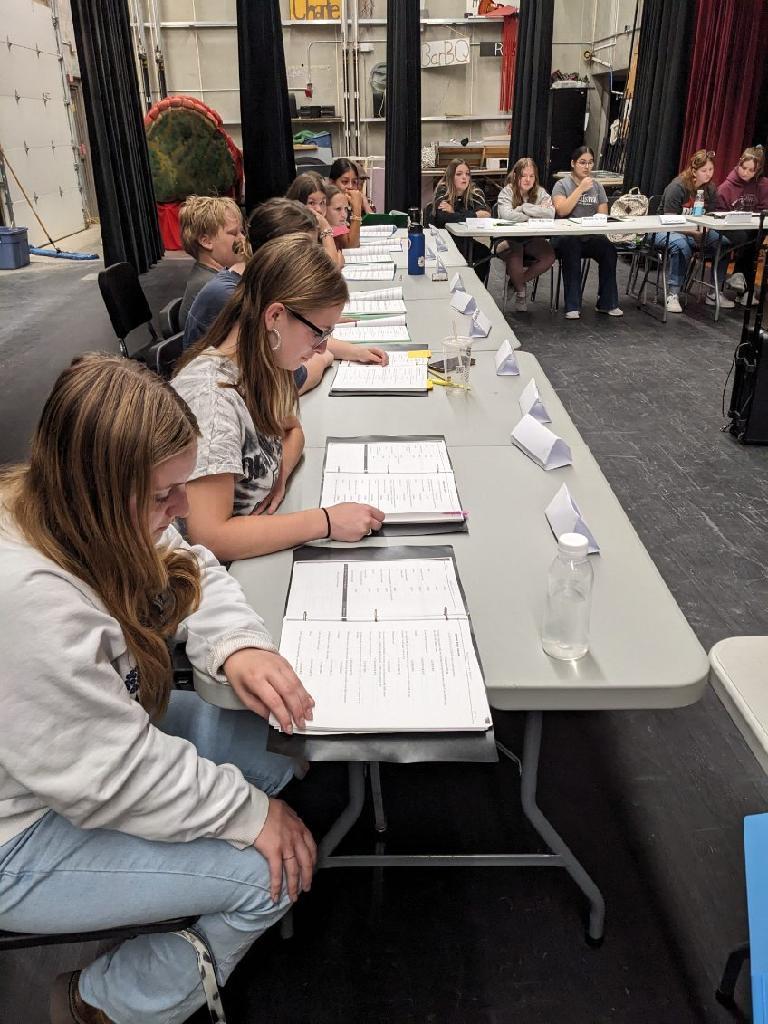 Due to construction delays, Clarke Community School District will postpone our preschool open house until later this year. Our first day of preschool will also change to Wednesday, September 6, 2023. On Wednesday, we invite parents/guardians to walk their children to their classrooms on the first day of preschool. Thank you, and we look forward to a fantastic year! Debido a los retrasos en la construcción, el Distrito Escolar Comunitario de Clarke pospondrá nuestra Casa Abierta para preescolar hasta mas adelante en este año. Nuestro primer día de preescolar también cambiará al miércoles 6 de septiembre de 2023. El miércoles, invitamos a los padres/tutores a acompañar a sus hijos a sus salones de clase el primer día de preescolar. ¡Gracias, y esperamos que esté sea un año fantástico!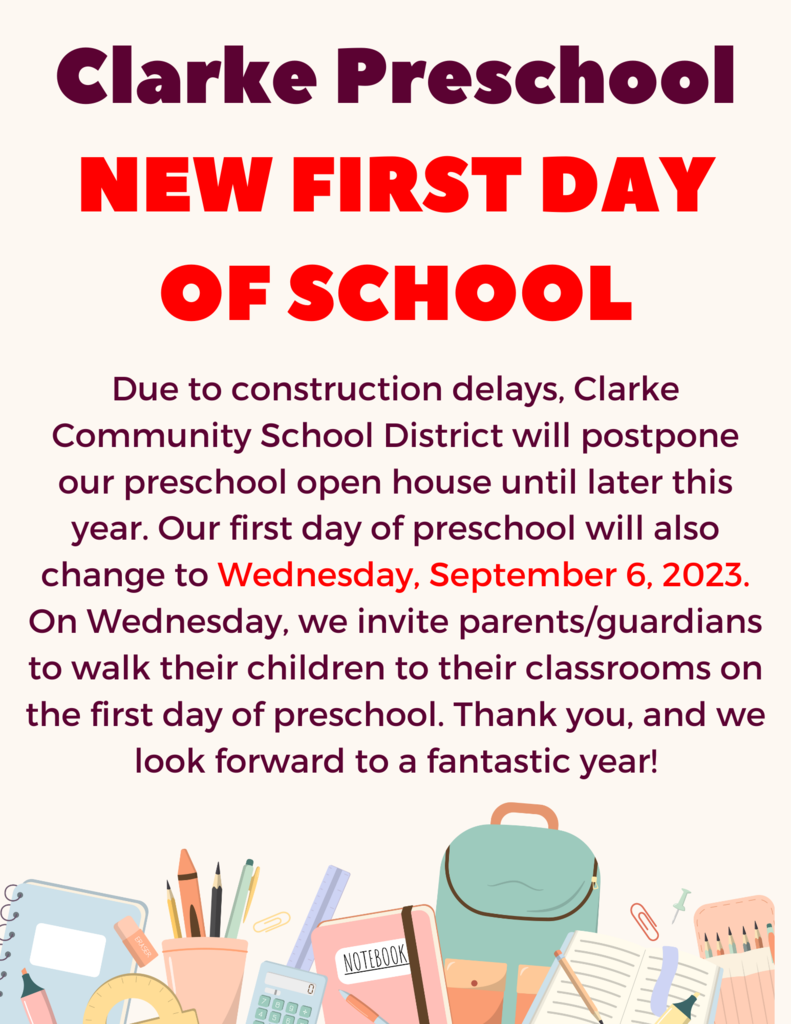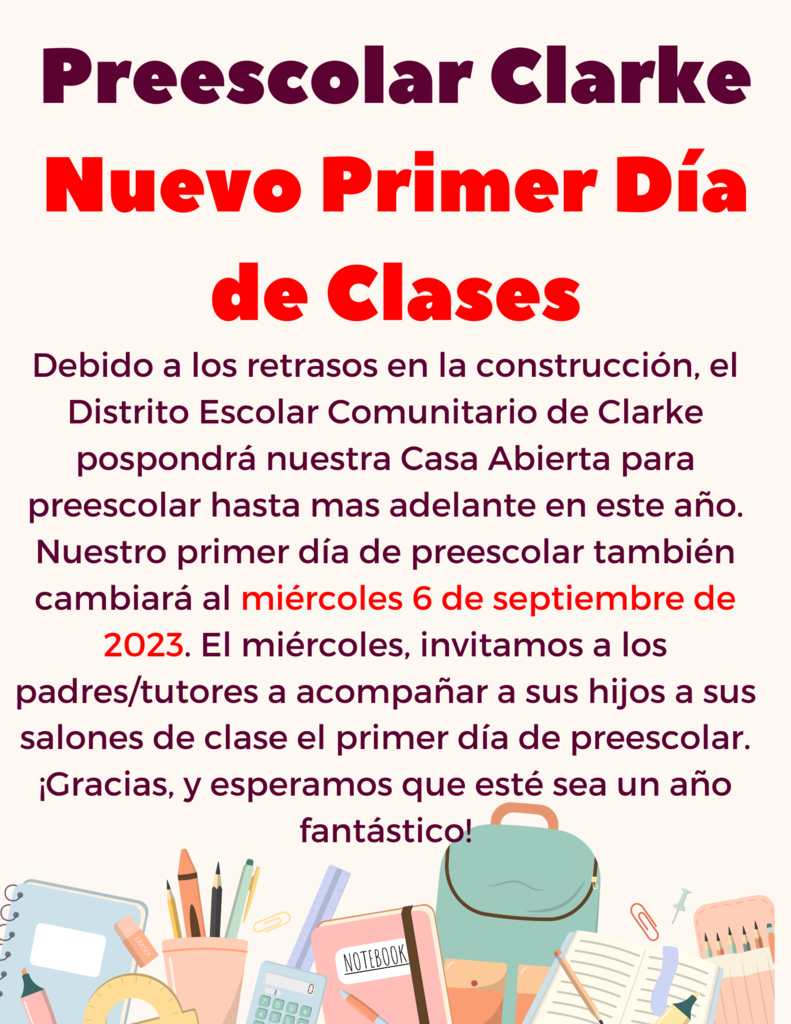 There are so many exciting fundraisers going on right now! Please click the links below to view the brochures for more information! HS Painted Parking Spot:
https://tinyurl.com/498e4ynw
Cheerleading Homecoming Mum:
https://tinyurl.com/3ahy96r9
PeeWee Cheerleading:
https://tinyurl.com/2wyde49z
Football Cards are available for $20 from football players. Homecoming Shirts will be sold beginning September 11 in both buildings. ¡Hay tantas recaudaciones de fondos emocionantes en este momento! ¡Haga clic en los siguientes enlaces para ver los folletos y obtener más información! Lugares de estacionamiento pintados en la (Preparatoria) HS:
https://tinyurl.com/498e4ynw
Arreglos de flor de crisantemo ofrecido por las porristas:
https://tinyurl.com/3ahy96r9
Porristas PeeWee:
https://tinyurl.com/2wyde49z
Las tarjetas de fútbol están disponibles por $20 con los jugadores de fútbol. Las camisas de regreso a casa (Homecoming) se venderán a partir del 11 de septiembre en ambos edificios.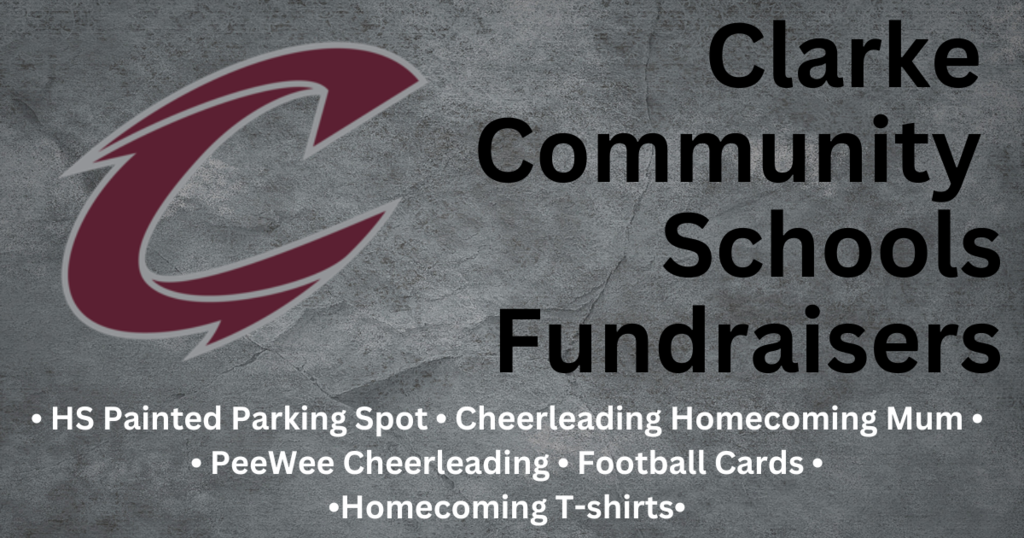 ⭐️What a wonderful first day of school at Clarke Community School District! We are so excited for all the learning, memories, and growth that will take place this year! A huge thank you to the incredible students, dedicated staff, and supportive families for making the first day of school so fantastic! ⭐️ ⭐️¡Qué maravilloso primer día de escuela en el Distrito Escolar Comunitario de Clarke! ¡No podemos esperar a ver todo el aprendizaje, los recuerdos y el crecimiento que tendrán lugar este año! ¡Muchas gracias a los increíbles estudiantes, al personal dedicado y a las familias door su apoyo para hacer que el primer día de escuela fuera tan fantástico!⭐️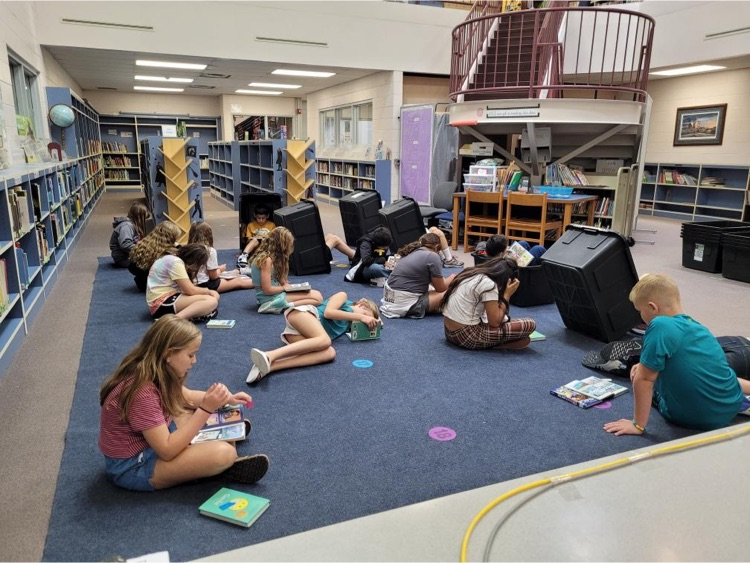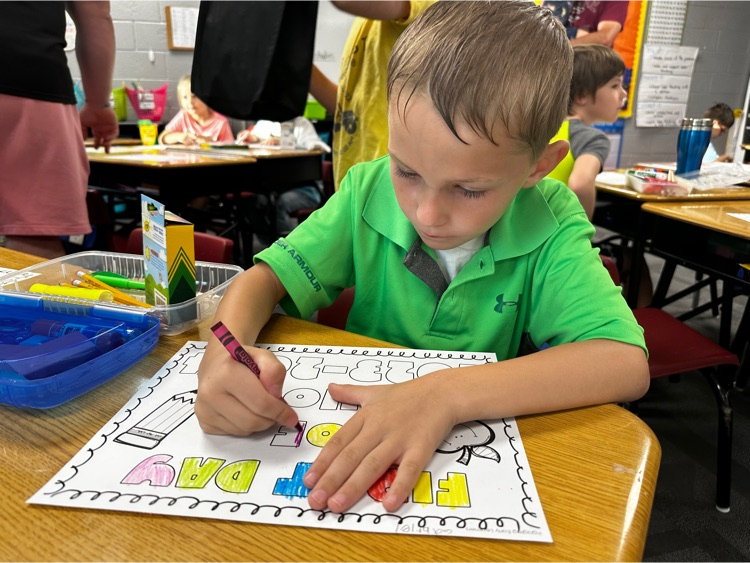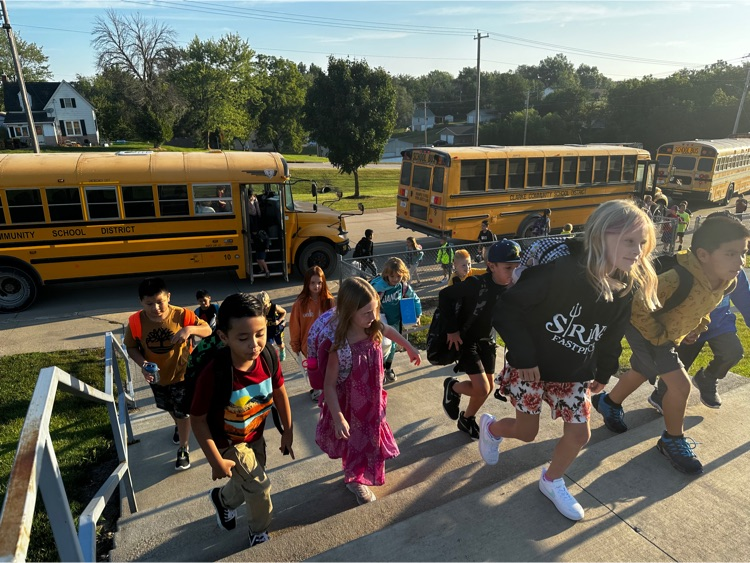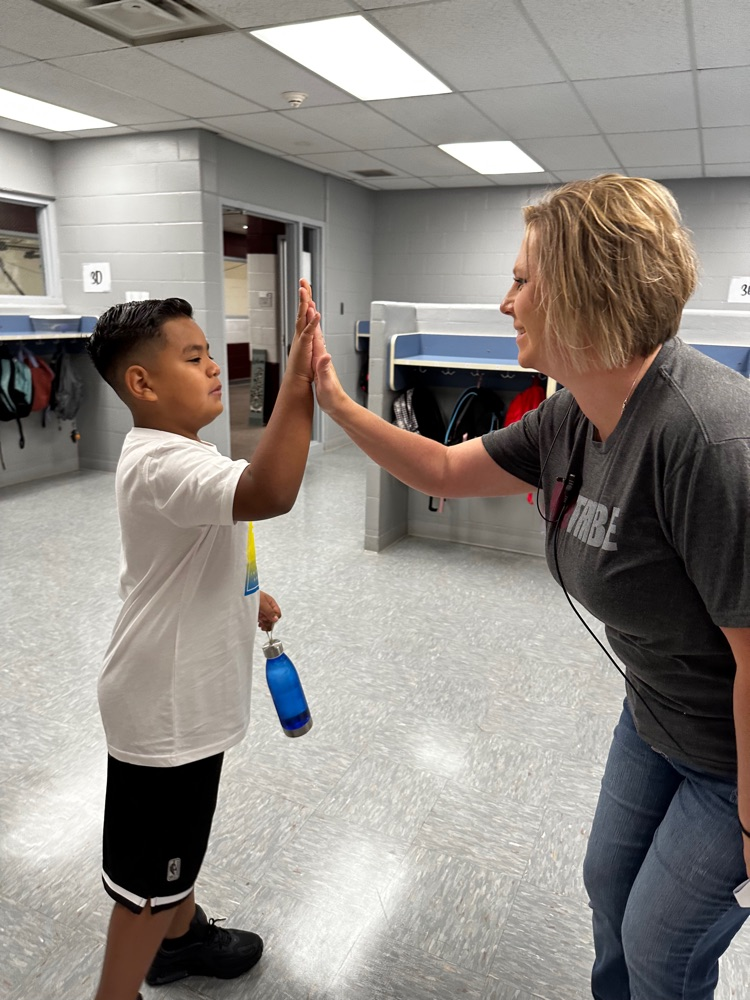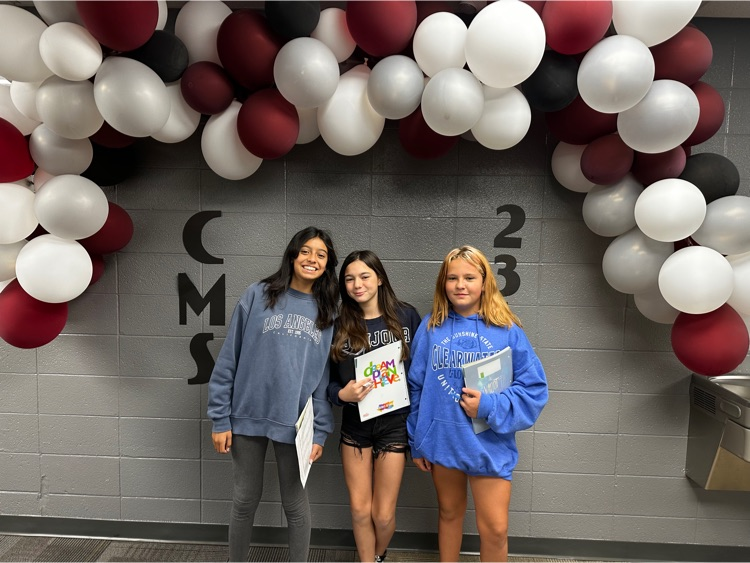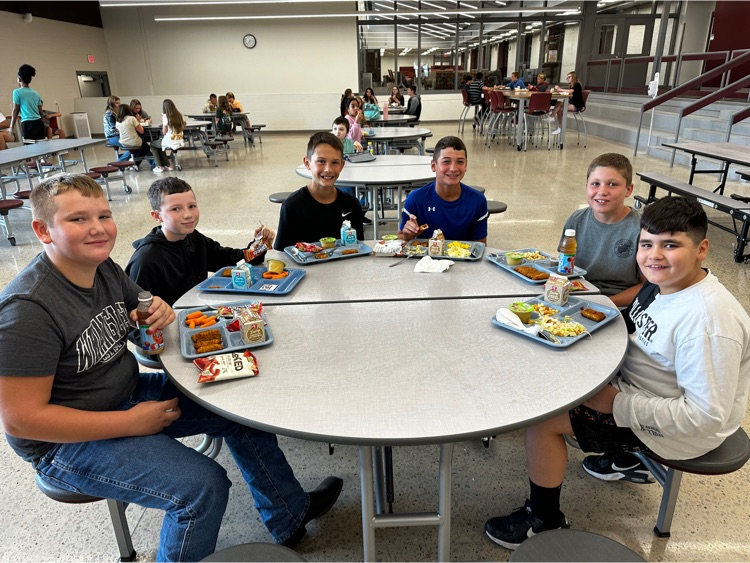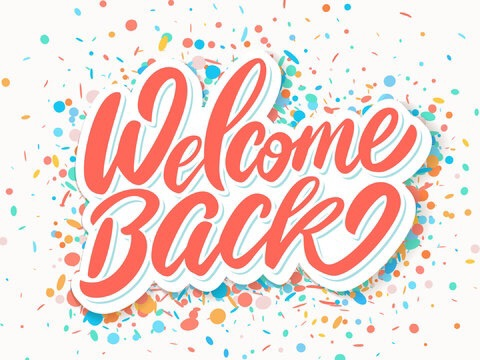 August and September Menus Menús de Agosto y Septiembre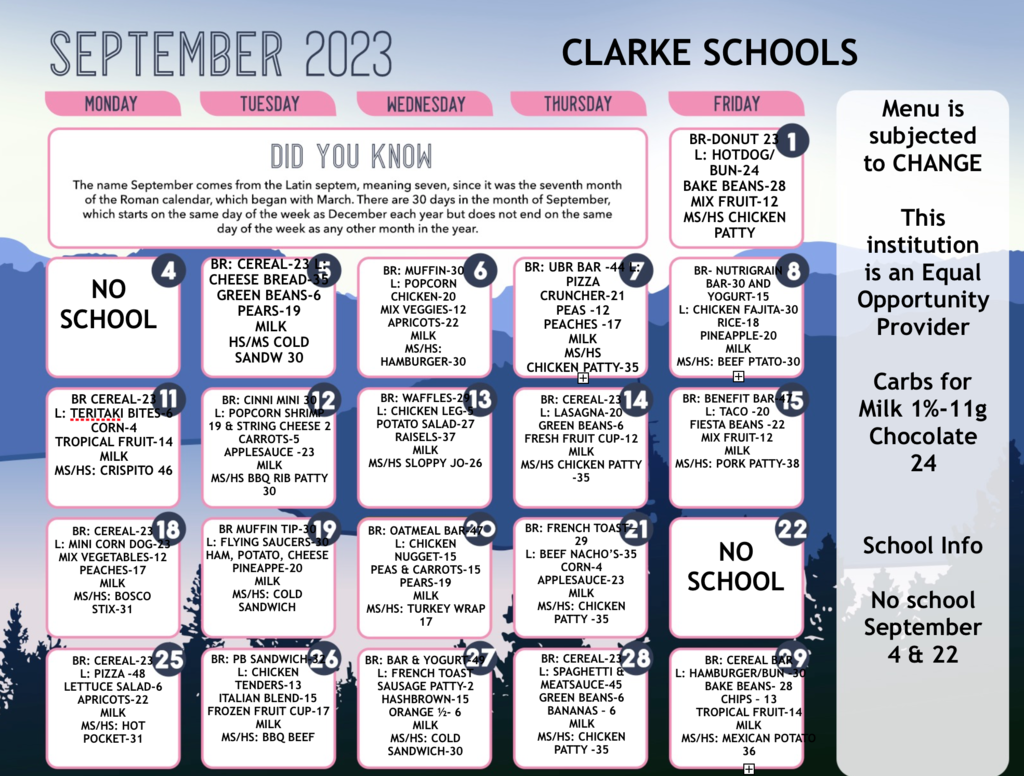 🏈 It is GAME DAY! 4:30 JV and 7:30 Varsity! See you there! 🏈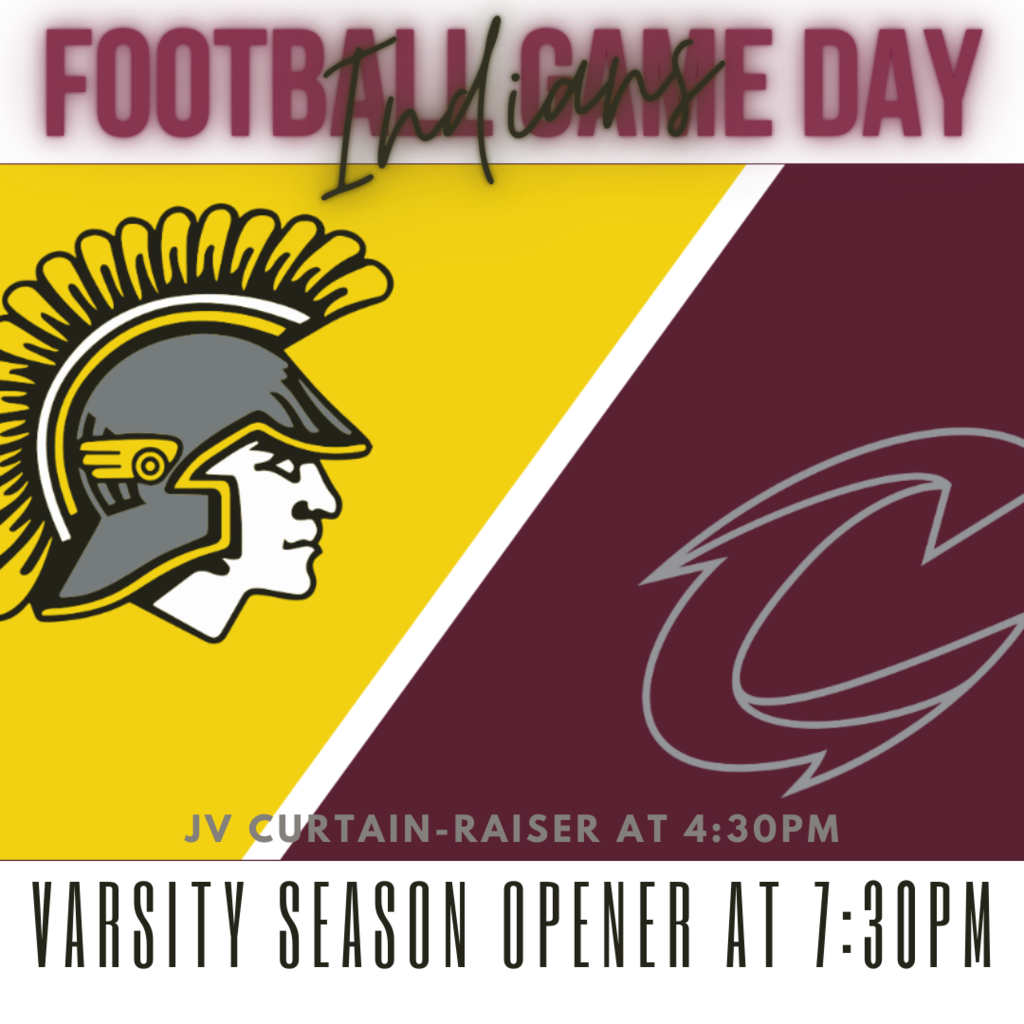 The Clarke Indians JV Football game on Friday, August 25th has been cancelled due to the heat. The Clarke Indians VARSITY Football game on Friday, August 25th is still happening at 7:30 pm on the Clarke Football Field. Juego de Football JV de los Clarke Indians este Viernes 25 de Agosto a sido cancelado debido al calor. El Juego de Football VARSITY de Los Clarke Indians el Viernes 25 de Agosto SI SE JUGARÁ a las 7:30 pm en el Estadio de Fútbol de Clarke.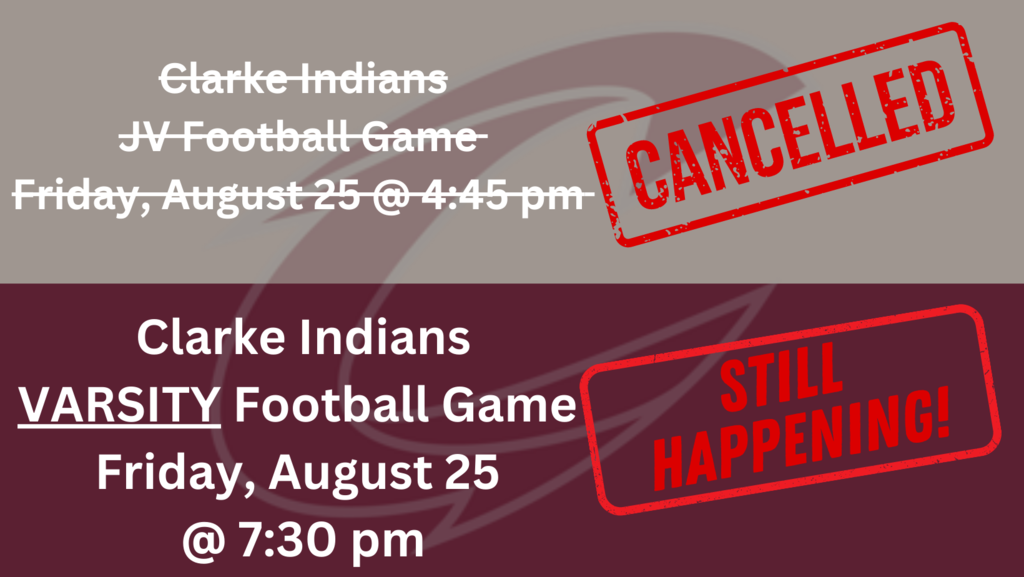 🏈 ONE tribe! ONE more day! 🏈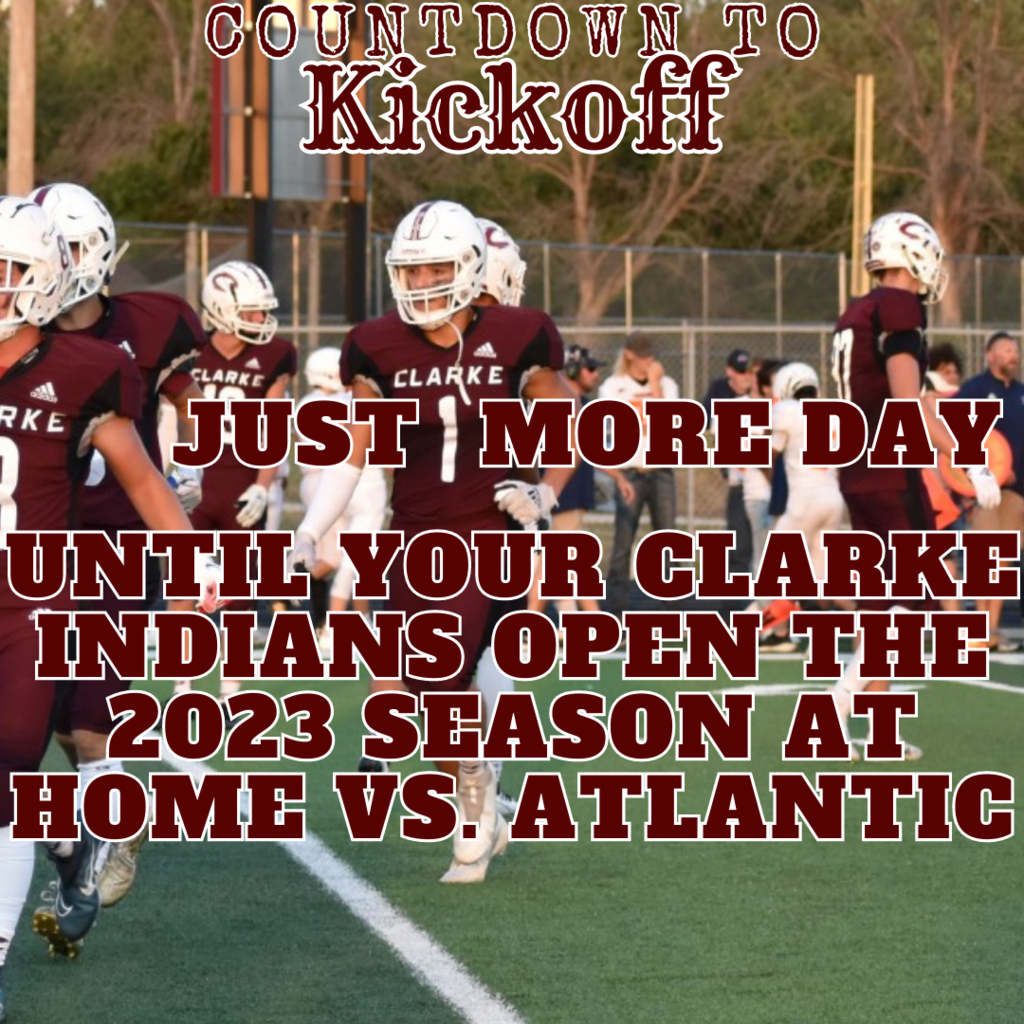 🏈 Go Clarke! Only 2 More Days! 🏈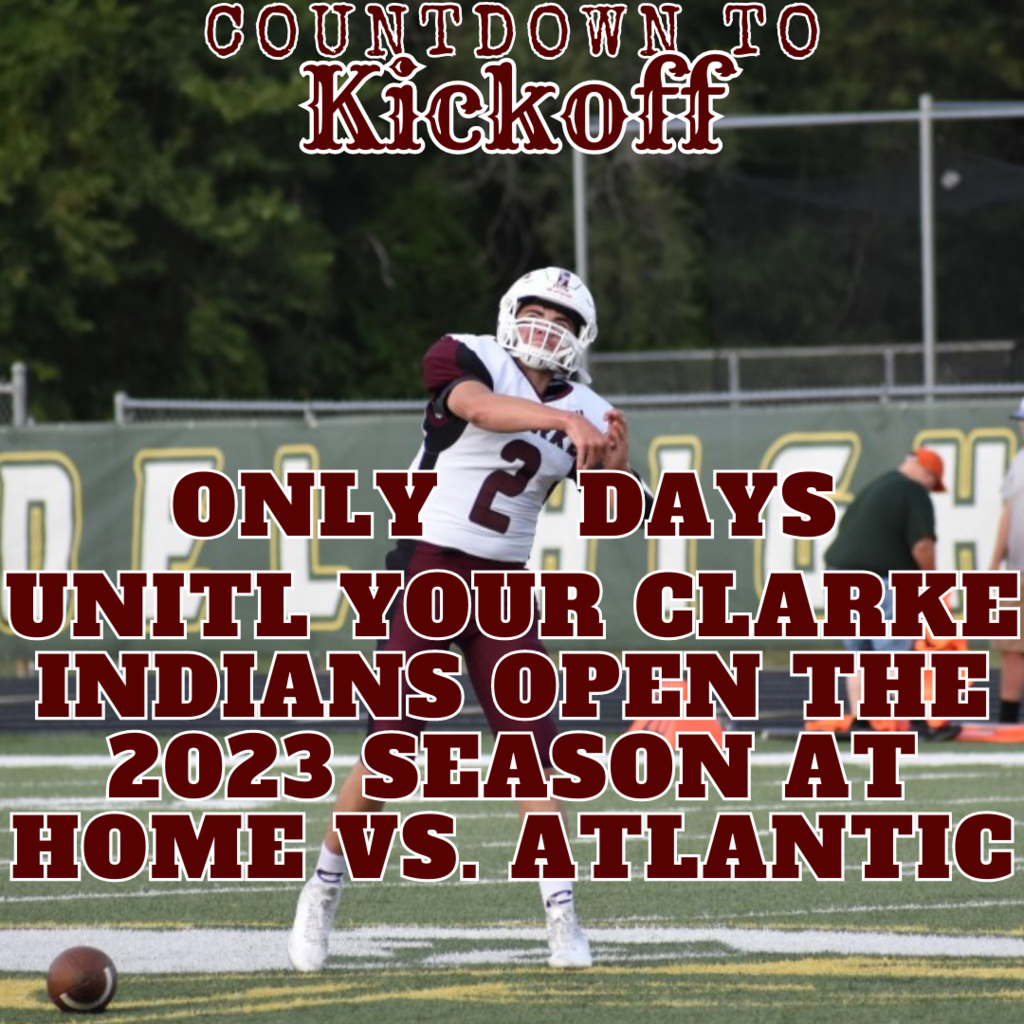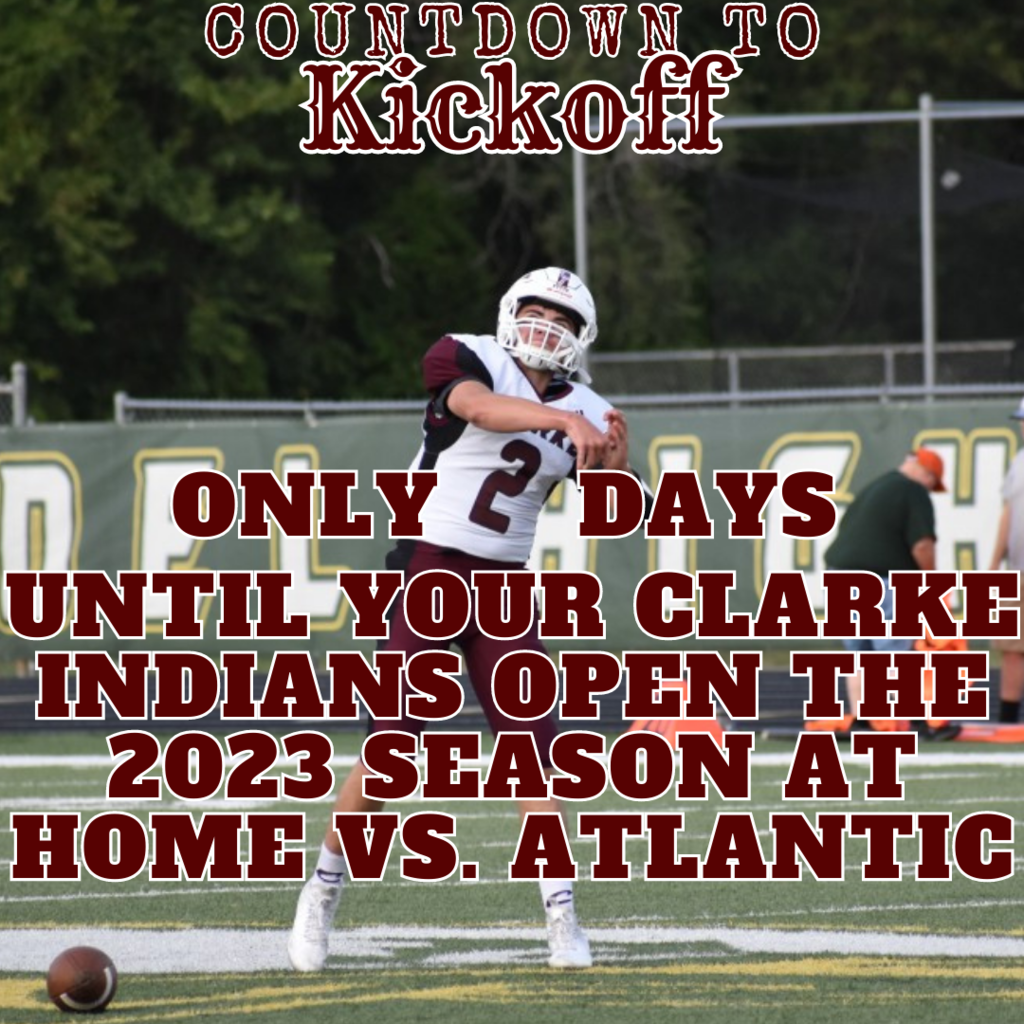 Clarke in the Park is TONIGHT at 5:30 pm on the square! Come kick off the school year with previews of the marching band and fall musical, support the fall student-athletes, enjoy a meal ($5) with friends, learn more about clubs, purchase Clarke gear, and meet new CCSD staff members! Clarke en el Parque es HOY a las 5:30 pm en la Plaza! Vengan a dar Arranque al nuevo año escolar con presentaciones de la banda musical, apoyar a los estudiantes-atletas de la temporada de Otoño, disfrutar de una comida ($5) con amigos, aprender más sobre los clubs, comprar artículos/vestimenta de Clarke, y conocer a los nuevos miembros del personal de Clarke!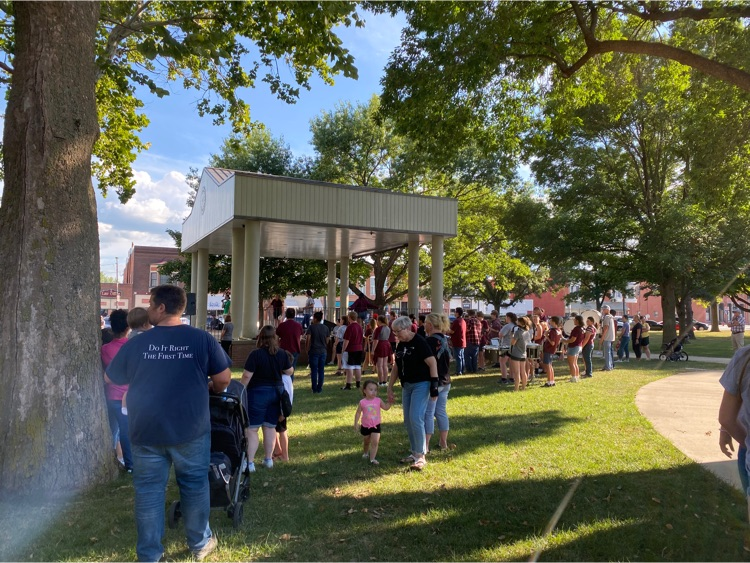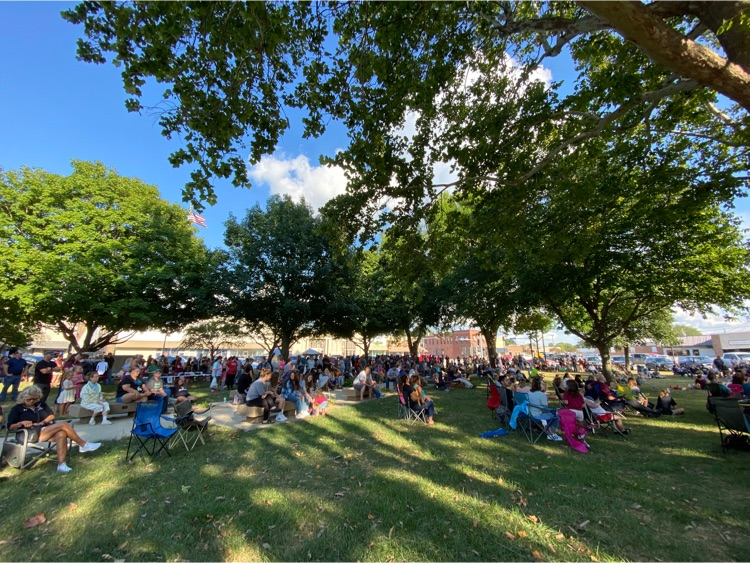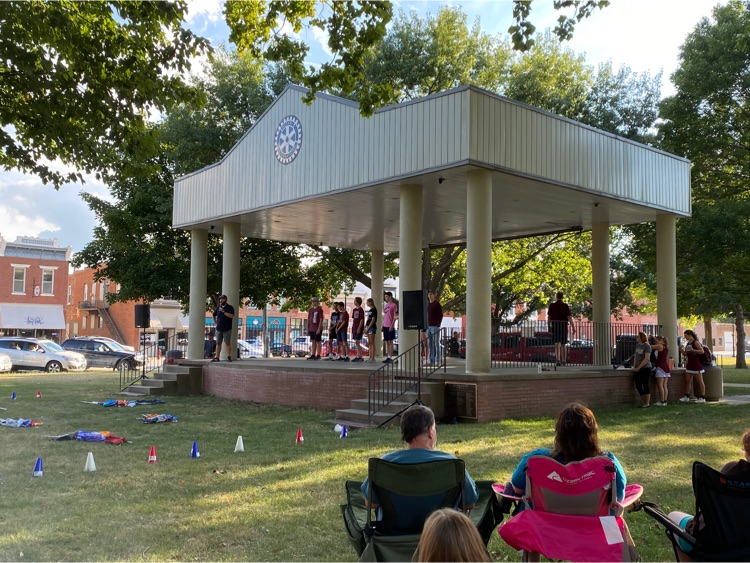 🏈 CCHS! Let's go, Clarke! Only 3 more Days! 🏈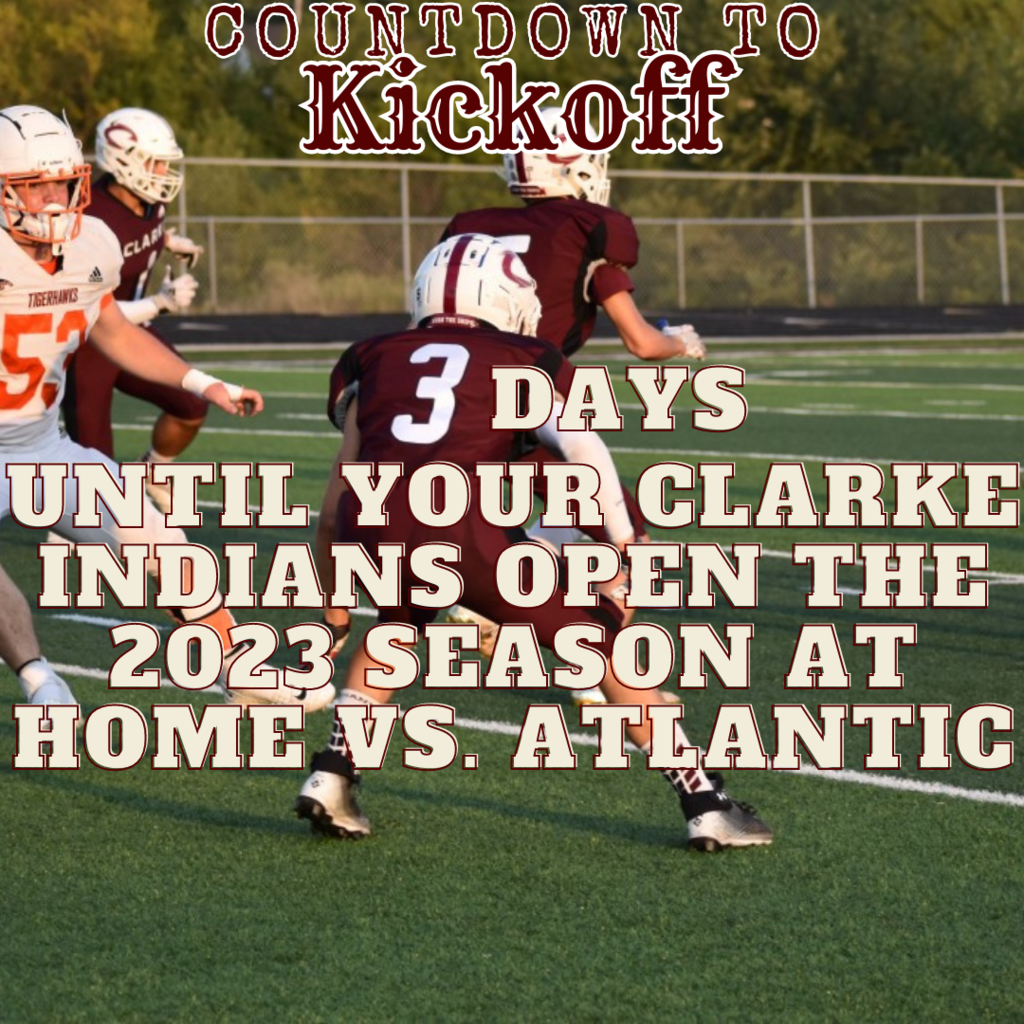 We can't wait to see you tonight, MS and HS Students! No podemos esperar para verlos esta noche, estudiantes de MS y HS!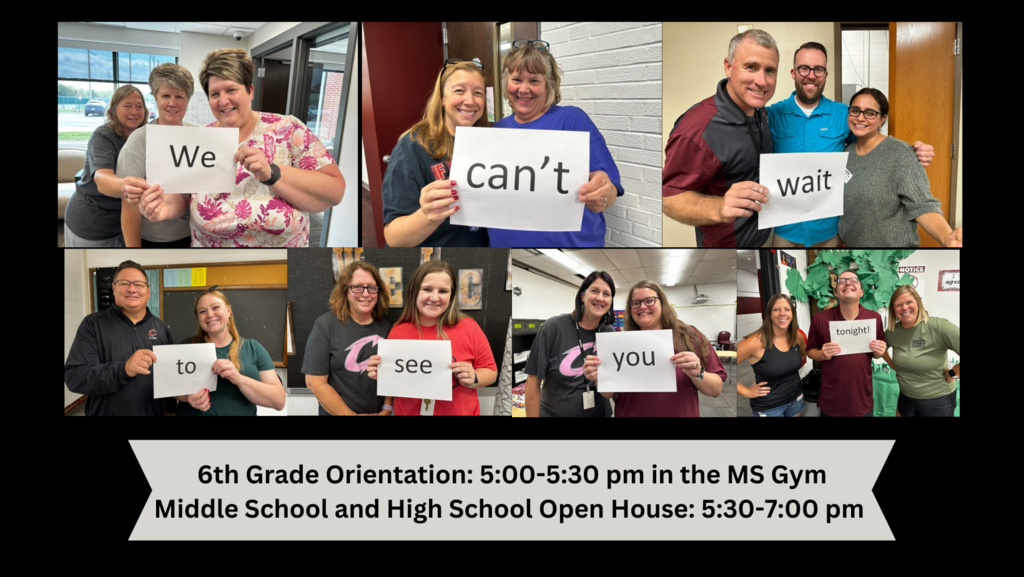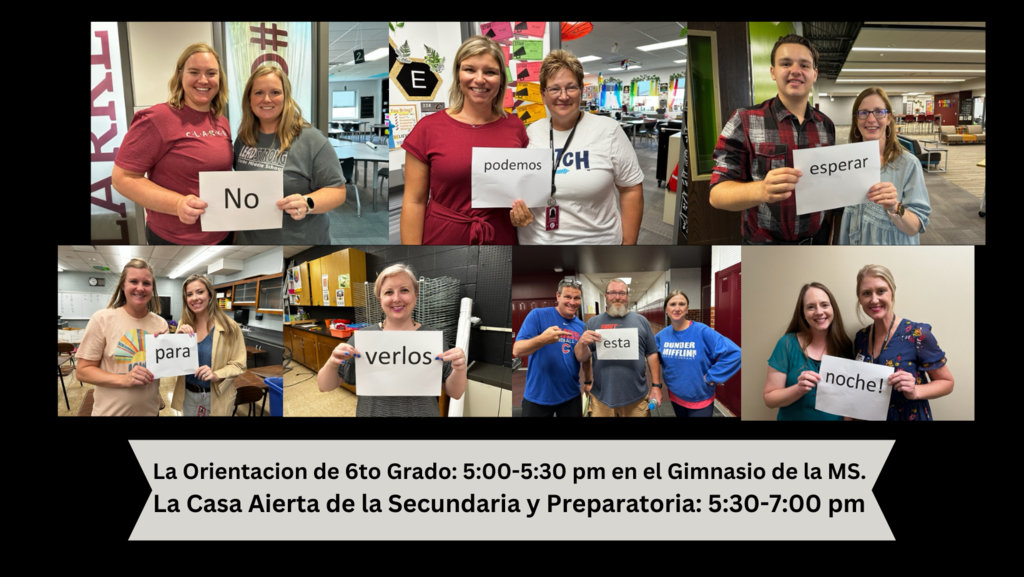 We are so excited to see you at Clarke in the Park tomorrow on the Clarke County Courthouse Square at 5:30! Estamos muy emocionados de verlos mañana en Clarke en el Parque en la Plaza de la Corte de Clarke a las 5:30 pm!